Solid Foundations: 40-hour interpreter training (ON DEMAND)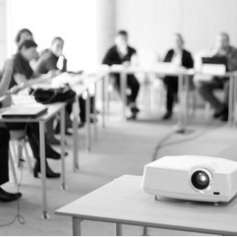 Solid Foundations: 40-hour interpreter training (ON DEMAND)
THE PROGRAM
Whether you have been interpreting for years or you are new to it, this program equips you with invaluable tools and lays solid foundations to lean on. The protocols, analytical guidance and healthy habits this program covers will help you in your daily practice and will make you feel proud of this amazing profession.
It is a 40-hour interactive and skills-based program that relies on the The Community Interpreter® curriculum. It's never boring. It is also the most up-to-date program in the field. The sessions ground you in what you need to know to work as a professional interpreter. The focus is on medical, school and government and nonprofit service settings.
Developed by Cross Cultural Communications (CCC), a Maryland based agency that holds a national reputation and building on five previous editions, this program has undergone several updates since its inception, thus guaranteeing up-to-date contents and proven methods.
CONTENT
MODULE 1: THE PROFESSION
An overview of medical and community interpreting today

National ethics

How to assess your performance
MODULE 2: PROTOCOLS AND SKILLS
Basic protocols (such as positioning)

Message transfer skills (how to interpret)

Interpreting modes

Memory skills and note-taking
MODULE 3: STRATEGIC MEDIATION
How to make decisions

Intervention skills

The Strategic Mediation Model

Cultural mediation
MODULE 4: PROFESSIONAL IDENTITY
Who are you? Where do you fit in?

Professional practice

Introduction to legal interpreting

Terminology
MODULE 5: THE INTERPRETER'S ROLE
Managing your role

Advocacy

National standards of practice

Self care and professional development
TIME
This class is offered on demand. If you are interested in it, we need to hear from you! Please fill out the form below to let us know about your needs. We will keep you posted about upcoming classes. Feel free to also specify your preferred times and dates. It is very helpful for us to know!
WHAT YOU GET
40 hours of fun interactive training of the certificate program 'THE COMMUNITY INTERPRETER®: International Edition'

Instructional materials, including:

A Certificate of Successful Completion (provided you meet the completion requirements as detailed on this page).
Sofía García-Beyaert, PhD, is an interpreter, interpreter trainer and researcher in language access policy. One of the authors of the pioneering textbook that supports this training, Sofia is an instructor at Bellevue College's Translation and Interpretation Program, and taught postgraduate and master's classes on interpreting skills-building at the Universitat Autònoma de Barcelona (Spain) before moving to Seattle.
Cindy Roat, MPH, is a trainer of interpreters, educators and healthcare providers, and a consultant to healthcare facilities, helping them improve their language access services. An internationally renowned trailblazer in the healthcare interpreting field, Cindy is a founding member and past Co-chair of the National Council on Interpreting in Health Care, a founding member of the Washington State Coalition on Language Access (WASCLA), and a former board member of the Northwest Translators and Interpreters Society (NOTIS), where she organizes and teaches workshops for healthcare interpreters. Cindy is widely recognized as an engaging public speaker and assiduous advocate for limited-English-proficient populations.
LOCATION
South Seattle College - University Center - 6000 16th Ave. SW, Seattle, WA 98106
CONTINUING EDUCATION CREDITS
WA DSHS: 7 general + 1 ethics (ECEC) professional education credits have been approved for this course.
WA AOC: pre-approval of continuing education credits is being requested.
ATA: pre-approval of continuing education credits is being requested.
REQUIREMENTS FOR COMPLETION
Please read carefully the following requirements for completion:
ATTENDANCE: Participants are required to be on time for every class and to not leave before the end of the class. Participants cannot miss more than 10% of the 40-hour training-- that is no more than 4 hours of the course. Participants will have to make up with extra work for any time of the course that they miss with a justifiable reason in order to receive the certificate.
ASSESSMENT: A final assessment is given at the end of the course to evaluate participants' knowledge of the program. The requirement to pass the test is to score 75% or higher.
OTHER RELATED PRODUCTS
Medical interpreters are encouraged to also sign up for our 8-hour workshop, Medical Terminology for Interpreters. Together, "Solid Foundations" and "Medical Terminology" cover the minimum education requirement you need to qualify for the national healthcare certification exams.
REGISTRATION
To register for this course, click on the purchase button above. The deadline to register for this course is TBD.
Early bird registration. Use the discount code.
Team sign-up. Find 2 other interpreters to sign up with you and receive a 10% discount. Team Sign Up registration form.
Employer registration. If you would like your employer to pay for your professional development, please have them fill out and submit this form.
Installments. You can use up to three installments to pay for this class. Shoot us an email if this is an option you are interested in (contact@arcos.institute).
To register, please click on the purchase button above.